Can someone answer this question for me?
Lets say that a member of the management team of a major rock band asked me to play drums for a new tour over the phone. They asked if I would be interested but never actually asked me to go.
Plane tickets were purchased on my behalf, they told me over the phone where we would be going and even told me how much I would be paid and when…IF I were to go on the tour. They even go to the point where they send me videos of their last tour and invite me in to meet the band….but we are just hanging at a party.
They never officially ask me to go.
There was no itinerary or contract sent to me.
I later realize that they did the same thing to two of my friends who are drummers. These drummers however, have NO plans on going because they are playing long running Broadway shows in town and they have families.  I then choose to NOT go on the tour because I am pissed off that they were asking other drummers to do the gig I thought was promised to me.
If I sue the management for breech if contract, will I have a similar outcome as this woman?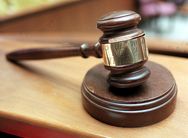 A Georgia man is learning the hard way that you need to keep your promises. A court has ruled that he must pay $50,000 for breaking his promise to marry his former fiancee.

According to CourtHouseNews.com, the state's court of appeals has ruled that Christopher Ned Kelley must compensate his former fiancee, Melissa Cooper, after first promising to marry her, but then ruining the relationships by allegedly cheating on her twice.

According to court documents, Kelley had given Cooper an engagement ring worth approximately $10,000, lived with her for more than a decade and had a child together.

Cooper then quit her job to raise the couple's children, thinking Kelley would support the new family.

But when Cooper found out that Kelley had cheated on her for at least the second time, she asked him to move out and sued him for fraud and a "breach of promise to marry."

As part of his defense, Kelley tried to claim his promise to marry couldn't be enforced partly because the nature of the couple's relationship was based based on an illegal pact.

Kelley's defense essentially claimed their relationship was a form of prostitution, where Kelley was simply paying Cooper for sexual relations.

He also claimed in court that he never really intended to marry her, "I never initiated the concept of marriage with her, outside of giving her that ring" and "I never said the words 'will you marry me' to her."

A trial court ruled in Cooper's favor, awarding damages and attorneys' fees totaling $50,000. Kelley's appeal of that ruling was rejected by the appeals court in November.

Read the entire case HERE