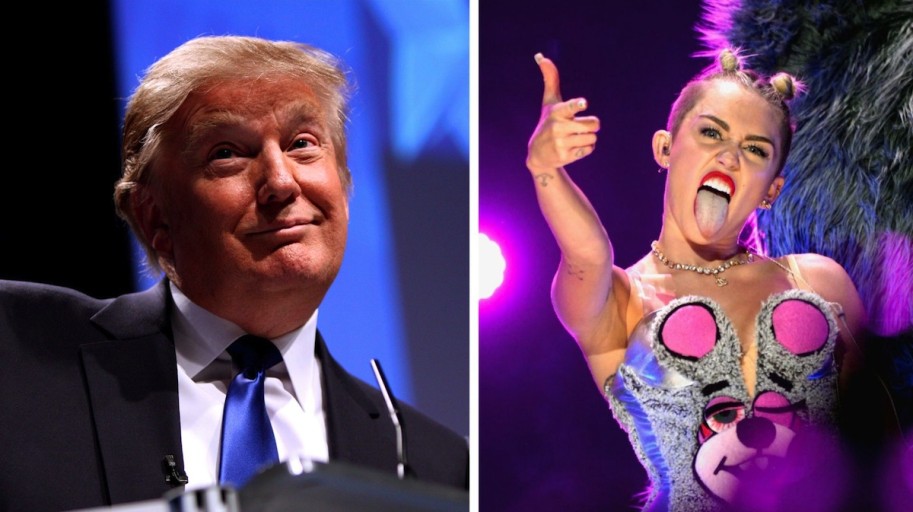 If you haven't figured it out by now, you must not know how people manipulate the press in our country.
It is pretty apparent to me that Donald Trump will say anything so that his name will appear in the news and he will stay at the top of the polls. This is the same tactic that people like Miley Cyrus used a few years ago when she was breaking free of the Hanna Montana image and trying to be cool and relevant. She said the most outrageous things and had some of the most outlandish performances so that she could be one of the trending topics on a regular basis. It's all a game and I think that many people do not understand how it is played until long after the flavor of the day is an afterthought.
When you have dozens of channels to choose on cable from and thousands of artists to sift through on Itunes or Spotify, you just can't be good and get a following. In today's world, there must be something else that grabs your attention to separate you from the others. Some choose to be truly unique and have great songs and a really different look (like Sia) and get the attention in a positive manner. Others choose to resort to the things that attract negative attention simply because they are vulgar, overly sexual, repulsive and just flat out ridiculous. The music or talent level be dammed.
When you have what seems like 3,234 GOP candidates running for office, it seems like in order to pimp the media, you have to find a way to stand out. I don't see why it is so hard to be unique with the pack of buffoons the GOP is allowing to stand up and represent their party, but hey, I guess making sense and having clear, reasonable policy positions isn't good enough in 2016. With this many people running for the same office, it seems as if the easiest way to make yourself look different is to use the same techniques Miley used.
The next time you hear Donald Trump speak, he will talk about how he is leading in certain polls, how he is selling merchandise, the way he is trademarking this or that. He is a true salesman and is simply selling his brand. He has no intention of being president because he knows his rhetoric will not be able to stand up to any sort of scrutiny. He is bombastic because he knows that when he says outrageous things, he will have his brand being mentioned in every major media outlet in the world.
I think it's interesting to watch the reactions of people after he opens up his mouth. Why do people say they are "scared" or they find him "scary"? I don't get it. Scared of what? He has no way to effect public policy, he has no intention of being anywhere near local, state or national political office – and oh yeah, he will never, ever be president. He appeals to those who are generally not intelligent enough to see thorough his game. He is the ultimate pimp.
Enjoy the freak show for another couple of months. No need to be scared. He will go back to doing whatever he did prior to his presidential bid eventually. I guarantee it.