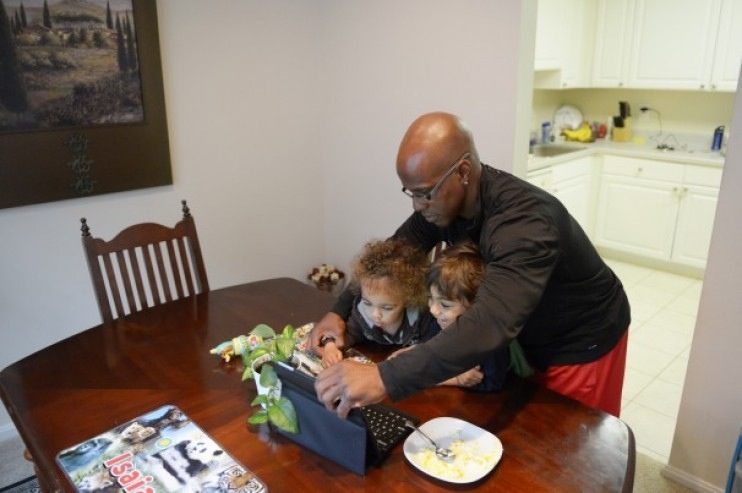 Chris Thomas is the primary caregiver for his three sons, and he works as a personal trainer. "I'm so tired," he said. Photo for the Washington Post by Matt McClain
An excerpt from this article: http://www.washingtonpost.com/blogs/she-the-people/wp/2013/11/06/dads-too-want-to-have-it-all/
Chris Thomas is the primary caregiver for his three sons, and he works as a personal trainer. "I'm so tired," he said. Photo for the Washington Post by Matt McClain

As I listened in to Boston College's Center for Work & Family's virtual "Fathers in the Workplace Forum" on Tuesday afternoon, I was immediately struck by two things:

One, an outpouring of more than 350 fathers had signed up for the lunch-time forum to hear about the center's research on what father's really want and whether they can "have it all."

And two, how absolutely, unequivocally critical those first few weeks and months after a child is born are for setting patterns of behavior that will shape the future for both the mother and the father, as well as the child.

Even the most egalitarian-minded men and women, surveys and time studies have found, slide unconsciously, helplessly almost, into traditional gender roles once the baby arrives. Before long, the couples who promised to be equal partners find the mothers scaling back or reducing hours at work or dropping out of the workforce and fathers working as much as or more than ever to make up the earnings. But unlike in past generations, dads are feeling more stressed because they're also doing more at home.

But is that what fathers really want?

Not according to the center's fascinating series of studies in recent years involving nearly 1,000 fathers, most of them white-collar professionals with big jobs at Fortune 500 companies.

Yes, they want to do good work and they are ambitious: Nearly 80 percent told BC researchers that they wanted to advance to positions with greater responsibilities.

But that's not all they want.

When asked why they valued their jobs, the ability to advance and earn more money came in fifth and sixth on their list. Job security – perhaps an artifact of asking the question on the heels of the Great Recession — came in No. 1, following by a sense of accomplishment, the fact that work is interesting and, most notably, they valued flexible work arrangements.

When asked to rank what equates with being a good father, these men put being physically and emotionally present for their children at the top of the list, and their role as a breadwinner number four out of six choices.

In fact, 77 percent of the fathers said, as other surveys have found, that they wished they had more time to spend with their kids.

As center director Brad Harrington explained to me in a recent interview, this is all part of a slow evolution leading to fairly massive social change. A generation ago, men were forced to step in at home when women began to work in the marketplace. Now, he said, more men are reaping "significant emotional rewards" from that more intimate family involvement.

Fully 86 percent said that being a good father is their number one priority. And more than half in one survey said that if money wasn't an issue, they'd be willing to quit work to take care of children. (Harrington said that, by the U.S. Census Bureau's strict definition, a scant 4 percent of fathers in married couples are stay-at-home dads. But other surveys, using more generous measures, have found that fathers are the primary caregivers for as many as 20 percent of all children under age five.)

"As men put their foot in the water and get more immersed with their kids, they start to realize what they've been missing," he said.

In an admittedly unscientific quick poll during Tuesday's virtual forum, fully 70 percent of the fathers online said they'd consider being an at-home parent.

"That shows a huge attitudinal shift about the legitimacy of at-home fathers," Harrington said. "We didn't expect the numbers to be that big."

So that's what fathers want. What have they got?

Work. When men become fathers, managers expect the same amount of work from them, Harrington's research has found. And social science has shown that men tend to get a "fatherhood bonus," because employers think they'll be even more committed and hard working now they have a family to provide for. At the same time, mothers who return to work are in a "Catch-22," Harrington said, with research showing that employers begin to think they're less committed, less promotable and even less competent.

Fathers described their ideal: About two-thirds of the fathers surveyed said that the best arrangement would be to share equally in work, household chores and caring for children. Then confessed their reality: that same two-thirds said that their spouses did more work at home and with the children than they did.
Read more HERE