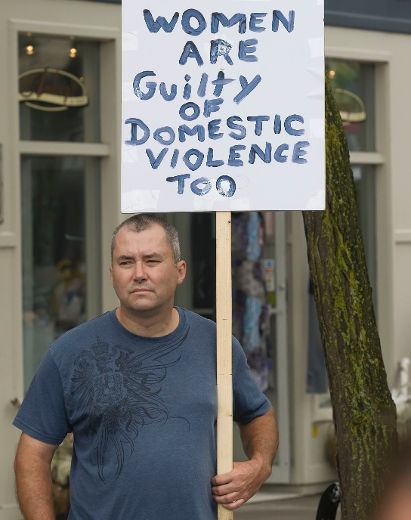 An excerpt from this article: http://www.portagedailygraphic.com/2013/11/25/awareness-of-men-and-domestic-violence-still-under-reported
While most people are aware of the abuse some women face in domestic violence situations, perhaps not as well known is that men also experience this form of abuse.

Since Portage la Prairie's Real Men Live Abuse Free committee put up their banner at City Hall, the Portage Family Abuse Prevention Centre (PFAPC) has received a few calls from men asking where they can go in situations of partner abuse.

"It's confirmed for us that in Portage there needs to be more services or more knowledge of what is in the community," said Joyce Schrader, executive director of the PFAPC.

Although the PFAPC will offer resources and can facilitate aid to men facing domestic and family abuse, currently, there are no specialized centres for those men to go to in Portage. Schrader said the PFAPC will direct men to organizations in larger urban centres.

One of the organizations abused men can go to in Winnipeg is the Men's Resource Centre (MRC).

"I think it's very important to have abuse centres for men in rural and northern communities in Manitoba," said Suhad Bisharat, executive director of MRC. "Currently, our program accepts men from all over Manitoba and we were able to work with them and provided them with emergency shelter services."

Bisharat stressed that the mistreatment men face in the home are the same as those faced by women in domestic and family abuse situations, but reporting the abuse is disproportionate.

"Many times you'll find it's much harder for a man to come forward than a woman and the reason for this is that men look at themselves as being the providers or being protectors for the family, so for them it is really hard to accept the fact that they are a victim," she said, noting most men will come for help only when they are in a severe crisis situation.

According to the 1999 Statistics Canada General Social Survey (GSS), almost equal proportions of men and women (seven per cent and eight per cent respectively) had been the victims of intimate partner physical and psychological abuse (18 per cent and 19 per cent respectively). The study also found that while men underreport the abuse they have sustained and inflicted, women underreport perpetrating abuse as their age and education increase.

In the survey, 11,607 men aged 15 years and older were surveyed and seven per cent reported that during the previous five-year period, they had experienced some type of spousal abuse on at least one occasion, compared with eight per cent of women.

It was also found that abuse was not an isolated event, with 54 per cent of male victims experiencing spousal violence more than once and 13 per cent experiencing it more than 10 times. The GSS also reported 35 per cent of male domestic violence victims are injured by their partners and 39 per cent end up needing medical attention.

"The amount of men coming to the shelter is growing by the day," said Bisharat. "The reason for that is the public awareness of the issue and being a safe and open space for men to come forward."

MRC sees men from their early 20s to their late 60s coming through their doors.

"Domestic violence and family violence does not recognize the age or ethnic group. It effects all people," said Bisharat.

In 2012, MRC provided emergency shelter to 67 men and 21 children.

Bisharat stressed that not only does the public need to be aware of domestic violence against men, but so do police.
Read the rest HERE